Posted by Brianna Maguire on Apr 8th 2020
Last week, the CDC released new guidelines stating that they recommend "wearing cloth face coverings in public settings." Since it is now known that the virus can spread even from those who are asymptomatic (not exhibiting symptoms) or pre-symptomatic (not exhibiting symptoms yet), wearing a cloth face mask can help prevent you from infecting others.
Keep in mind that this recommendation is not for surgical masks or N95 masks, which should only be used by medical professionals. Instead, you can make face masks from materials you already have in your home!
Here's a couple ways to do it:
1. Use a bandana and two rubber bands

To make this face mask, all you need is a bandana and two rubber bands!
First, lay the bandana down on a table

Fold the bandana in half

Fold it in half twice more, until you have one long strip of fabric in front of you

Wrap one rubber band around each end of the folded fabric (this will be the part that goes around your ear!)

Pick up each end of the bandana and fold one end into the other's opening. That way, the two ends are attached to one another. In other words, you're going to stuff one end of the bandana into the other end.

Lift the mask by the rubber bands and wrap the rubber band around your ears

Done!
If you don't have rubber bands, hair ties work great, too!
Here are the steps, written out from the CDC. The CDC also adds a coffee filter to their homemade mask, but just the bandana and the rubber bands works, too!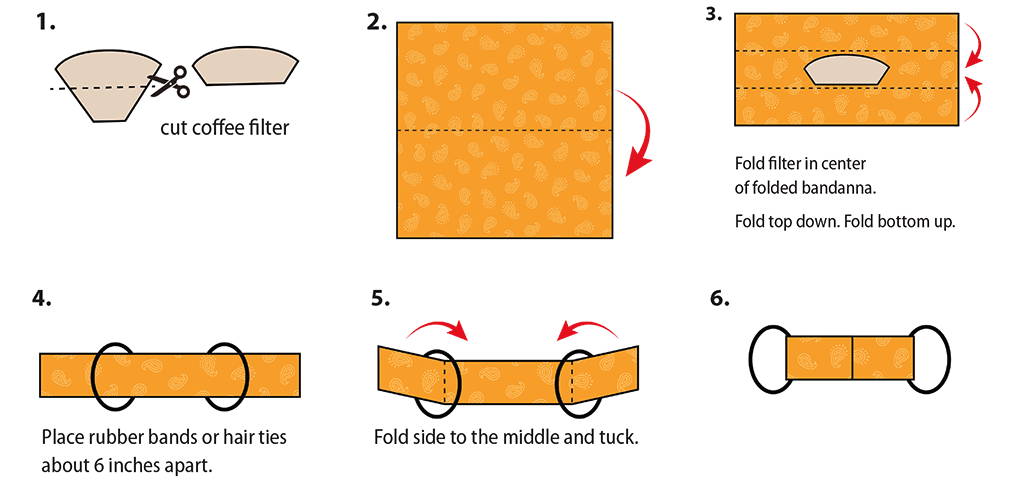 2. Wear a scarf around your face

This one is the simplest solution! Just wear a scarf around your face and clip the fabric back. You can do these either by fastening the scarf to your hair, using a clip on the scarf itself so it holds tight, or just wrapping the scarf tightly enough that it doesn't fall down. Remember to cover both your nose and mouth!
3. Cut up an old tee shirt

For this option, all you need is an old tee shirt and a pair of scissors. Here's an image of the steps from the CDC:

All you need to do is:
Cut off the bottom part of an old tee-shirt. You'll want at least 7-8 inches of fabric.

On that strip you've cut out, you want to cut a rectangle into the side. The idea is that the part you haven't cut will wrap around your face, and we'll use the two strips of fabric (one on the top and one on the bottom) as ties

On both the top and bottom pieces, cut the end open (that way you'll have one strip for either side of your head, that you can use to tie the mask on)

Use the bottom strips of fabric to securely fasten the mask to your neck, and the top to fasten to the top of your head.
Don't forget to practice basic safety measures
Remember that no matter which way you decide to make your mask, you should always:
Wash your hands before putting your mask on

Do not adjust or touch your mask once it's on

Wash the fabric (the bandana, scarf, or shirt), after each use
At Carewell, we're here for you! We're working around the clock to get your orders out and help in any way we can. If you need anything, you can always call 855-855-1666 and a member of our Care Team would be happy to assist.