Posted by Brianna Maguire on Feb 12th 2020
Keeping your loved one clean and fresh can be a challenge, especially if you have trouble getting them out of their bed. That's why we offer a unique range of bathing products that you can use anywhere - no water required.
Enjoy a full bath with the TENA bathing glove.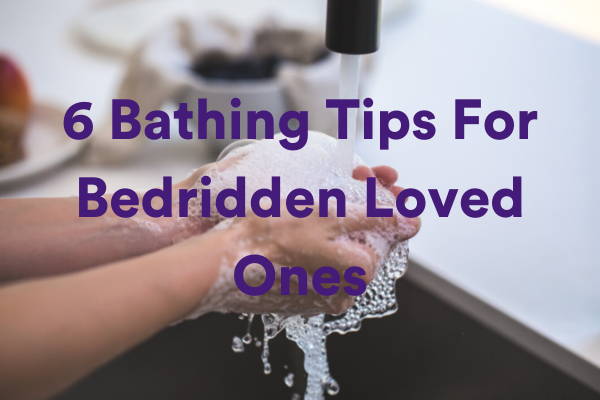 Enjoy a full bath with the TENA Bathing Glove

Pre-moistened with a gentle body soap, this bathing glove is worn over the hand and used to wash a loved one. Use either side to wipe the body down, then just toss the glove away. Delicate on fragile or sensitive skin, these leave loved ones feeling and smelling fresh, even if you can't get them to the shower. You can even pop them in the microwave for a wash that's warm and cozy.
---
Give your loved ones a heavy-duty clean with No-Rinse Body Wash

So powerful it's used by NASA astronauts, this no-rinse body bath washes away dirt and impurities with no need for water. Skin feels clean, refreshed and odor-free, and the special formula is safe on sensitive skin.
---
For bed-ridden loved ones, remember to turn every 2 hours

If your loved one is bed-ridden, regular movement is critical for keeping skin fresh and protected from sores. Try to turn them at least once every two hours, with some movement every 15 minutes or so.
---
Protect furniture and skin with Attends Premier Overnight Underpads

These underpads are absorbent, soft, and sturdy. Advanced polymers wick wetness away from the top sheet and into the absorbent core, so the fabric feels soft and dry against skin. A great companion to pull-up underwear or diapers with tabs, Attends Premier Underpads are a heavy-duty solution that keeps your loved one dry and clean.
---
Don't forget about hair! Enjoy freshly washed locks with the Comfort Bath Shampoo Cap

Just place this cap on your loved ones head and massage the scalp, working from bottom to top. The built-in shampoo and conditioner removes impurities, leaving clean hair that brushes out tangle-free. You can even microwave the cap ahead of time for a warm, comfortable wash.
---
Kill two birds with one stone with Prevail Quilted Wipes with Lotion

If you're managing incontinence, you may already have these handy hygienic wipes laying around. They're extra large and great for cleansing during changes. But did you know they're also an ideal tool in between showers? Their lotion-enriched fabric is packed with aloe, chamomile, and vitamin E, which promote skin health. Use them to wipe down loved ones for a gentle cleansing that leaves them feeling and smelling fresh.